Donor Profile: Leonard L. Edloe, Pharm.D
June 7, 2020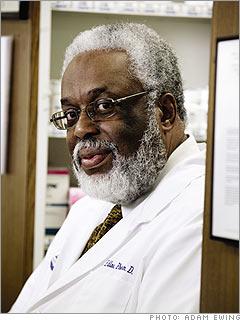 When Leonard L. Edloe, Pharm.D, took to the lectern in the fall to deliver the second annual Legacy Lecture at Howard University College of Pharmacy, his presence and the event might have been considered a homecoming, of sorts; except, Dr. Edloe never really left the College. Since earning his Bachelor of Science in Pharmacy in 1970, Dr. Leonard Dr. Edloe has played an active role in the life of the College of Pharmacy.
During the question and answer portion of the lecture, when asked what role the College of pharmacy played in his success, Dr. Edloe stated, without hesitation " The College of Pharmacy made me the man I am today" He also joked, " I didn't have a choice, my father told me I had only one option when it came to school and that was Howard."
Dr. Edloe was immersed in pharmacy science during his childhood. He was inspired by the life-saving role his father, Leonard Lacy Edloe, Sr (Class of 1934) played in their community.
When he enrolled in Howard University College of Pharmacy Dr. Edloe gained a newfound respect for the profession of pharmacy. He was stimulated by the rigorous curriculum and motivated by the high expectations placed on himself and on fellow students by the distinguished faculty including the then Dean, Dr. Chauncey I. Cooper.
During his career Dr. Edloe has served in various capacities; most recently as the Chief Executive Officer of Edloe's Professional Pharmacies, his family owned pharmacies located in Richmond, Virginia, and Pastor of the New Hope Fellowship, Hartfield, Virginia. He went on to earn a Master of Divinity from the Samuel Dewitt Proctor School of Theology at Virginia Union University, and a Doctor of Pharmacy degree from the University of Florida, School of Pharmacy. However, he never forgot Howard University College of Pharmacy and her students.
"The College of Pharmacy is incredibly fortunate to have alumni like Dr. Edloe who are committed to helping our students and faculty." said Canute Knott-Malcolm, MPH, Director of Development.
During the Legacy Lecture, Dr. Edloe urged those present to give back to the College once they have graduated. The College will be in good hands if the students become as good a steward as Dr. Edloe has been. Since graduating from the College, Dr. Edloe has served as a Clinical Instructor of Pharmacy at the College and previously served on the joint Board of Visitors for the College of Pharmacy, Nursing and Allied Health Sciences. He currently serves as Vice Chair of the newly re-established College of Pharmacy Board of Visitors. He also established the Leonard Lacy Edloe Senior Endowed Scholarship in Pharmacy, which offers scholarships to deserving students in the College. On March 12, 2013 Dr. Edloe made a generous contribution in the amount of ten thousand dollars ($10,000.00) to the Leonard Lacy Edloe Senior Endowed Scholarship in Pharmacy.
Anthony K. Wutoh, Ph.D., R.Ph, Dean of the College understands and appreciates the importance of gifts like those made by Dr. Edloe. The continued recession has impacted many of our students and potential students. Many students would simply not be able to enroll without some form of financial assistance. Dr. Wutoh stated,  "We are extremely grateful to Dr. Edloe for his continued support and commitment to the College of Pharmacy. His contributions as Vice Chair of the Board of Visitors, and financial support of our students speaks volumes of his dedication to Howard University"
In addition to the Leonard Lacy Edloe Senior Endowed Scholarship in Pharmacy, Dr. Edloe made contributions towards a Building Planning Fund, which will ultimately enable the College to plan for and implement a capital campaign to construct a new building to house the pharmacy program.
" We are investing in our students in the faculty, in the College; however, we are not doing this alone; it is a combined effort between the College and its alumni. Our joint effort is what enables the College of Pharmacy to educate the best pharmacists in the world" said Anthony K. Wutoh.  I am sure Dr. Edloe would agree.
Categories
Scholarship