Mrs. Rodelyne Lirazan Receives the Charlie M. Van Dor Horst Award
June 11, 2021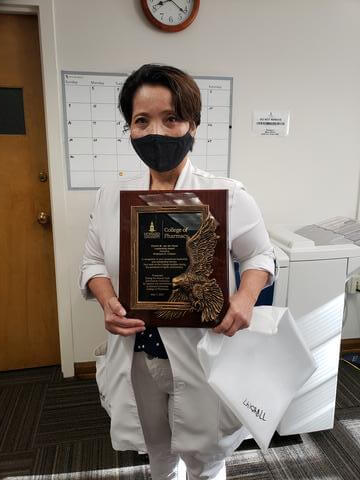 Dr. Charles Van der Horst, 67, was a preeminent UNC researcher and clinician who helped develop groundbreaking treatment protocols for HIV/AIDS. During the time of his passing, he was a member of the HUCOP Board of Visitors and a close friend to the Dean. Howard University Board of Trustees adopted a resolution after the passing of Charles Michael van der Horst, MD., FACP, FIDSA in June 2019. In the spirit of his exemplary life and service, the College of Pharmacy created the Charlie M. van der Horst Leadership Award in his honor for individuals who demonstrate sacrificial service going above and beyond the call of duty. The 2021 award was awarded to a staff member, Ms. Lynn Lirazano for her sacrificial service to the college. Since 2016, she has been the Facilities Coordinator for the college.
The Charles Van der Horst Award was created by Howard University College of Pharmacy. Dr. Charles Van der Horst,. He was a compassionate doctor who turned a community service stint into a campaign to eradicate Hepatitis C in Wake County. He was a social justice advocate willing to go to jail to draw attention to the needs of the state's uninsured. Van der Horst was a formidable athlete, a respectable cook, and a man whose outgoing personality served as a conduit through which countless people became connected as colleagues and friends.
Several former colleagues interviewed described van der Horst as compassionate and courageous. They said they admired how committed he was to stand up for what he believed was right in healthcare and other civil rights issues.
Categories