Dean Toyin Tofade is celebrated during Black History Month
February 10, 2021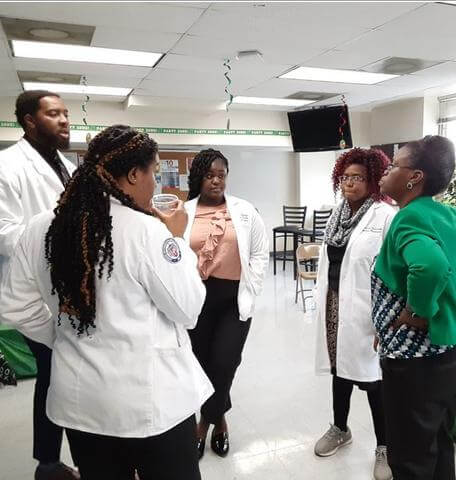 Dean Tofade shares her journey on becoming Dean of Howard University College of Pharmacy
The  Howard University College of Pharmacy is proud to celebrate its very own dean, Toyin Tofade, as she shares the story of her educational professional journey and accomplishments with Brittany Jennings in the January 2021 edition of UNC News Sidebar publication.
In 2019, the University of North Carolina at Chapel Hill's  Eshelman School of Pharmacy selected Dean Tofade to receive the Fred Eckel Pharmacy Leadership Award, bringing her relationship with the institution full circle.
"It was an honor, first because UNC is my alma mater, second because UNC is the number one pharmacy school in the nation, and third because Fred Eckel was the guy who tapped me when I was unknown in Nigeria. To be the first Black person to win that award was very special to me," Dean Tofade says.
In other nods to her professional esteem last year, Dean Tofade was elected by her peers to serve as President-Elect of the Academic Pharmacy Section of FIP, the International Pharmaceutical Federation serving four million pharmacists and pharmaceutical scientists around the world. She is the first Black person to serve in this role. Dean Tofade was also selected as the Chair-elect for the American Association of Colleges of Pharmacy Council of Deans (AACP), the organization that represents all pharmacy colleges and schools in the United States. Dean Tofade is expected to bring to those roles a signature passion for balancing opportunities equitably --  both locally and abroad.
Dean Tofade's hard work in service of the College is highly appreciated by students. Last year, she was named the recipient of the A. Richard Bliss Jr. Grand Council Citation of Appreciation Award by the Kappa Psi Pharmaceutical Fraternity, Inc. Her achievements at Howard University and partnership with international pharmacy organizations inspired students to advance her nomination. The Bliss Award is Kappa Psi's highest award; it is presented in recognition for extraordinary contributions to the fraternity or the pharmacy profession.
To read the full interview, please visit https://pharmacy.unc.edu/2021/01/alumna-toyin-tofade-shares-her-journey-of-becoming-dean-of-howard-university-college-of-pharmacy/
Categories