International Pharmaceutical Federation Officers
August 31, 2020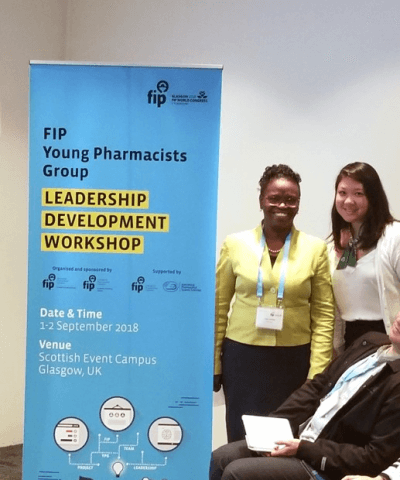 Dean Toyin Tofade and Dr. Miranda Law played active roles in launching and teaching in the inaugural Young Pharmacists Group (YPG) Leadership Development Program in Glasgow, Scotland during the 2018 congress of the International Pharmaceutical Federation (FIP), which hosts development programs for select promising young pharmacist/ pharmaceutical science leaders from around the world. More information about YPG and FIP can be found at https://www.fip.org/about-young-pharmacists-group  The workshop is now featured every year at the FIP Congress.
It was at the Scotland FIP Congress that Dean Tofade was bestowed with the FIP Fellowship that recognizes members who have served FIP, exhibited strong leadership internationally, and who have distinguished themselves in and contributed to the advancement of the pharmaceutical sciences and/or practice of pharmacy. FIP Fellows may use the designation "FFIP."
Dean Tofade has served as secretary of the FIP academic pharmacy section since 2015 and serves on the Workforce Development Hub and the programming committee. She is also an active member of the Global Academic Leaders' Forum of the Academic Institution Members (AIM) arm of FIP. 
Miranda Law was also appointed to the Workforce development Hub as a global lead for leadership development in 2019. The team recently published an article on Implementing an Online Longitudinal Leadership Development Program Using a Leadership-Specific Continuing Professional Development (CPD) Tool https://www.mdpi.com/2226-4787/8/2/79/htm
Guest Speakers and Officers from HUCOP:
Toyin Tofade, MS, PharmD, BCPS, CPCC, FFIP
Dean and Professor, Howard University College of Pharmacy
Secretary, FIP Academic Pharmacy Section
Workforce Development Hub Lead #6: Leadership Development
Academic Institution Member
Global Academic Leaders Forum Advisory Committee Member
FIP Program Committee Member
Miranda Law, PharmD, MPH, BCPS
Clinical Assistant Professor Director of
International Experiences and Engagement
Howard University College of Pharmacy
Global Lead: Workforce Development Goal #6
Categories