APPE Testimonial: Dr. Fatoumata Bayo, Pharm.D. - Class of 2021
June 8, 2021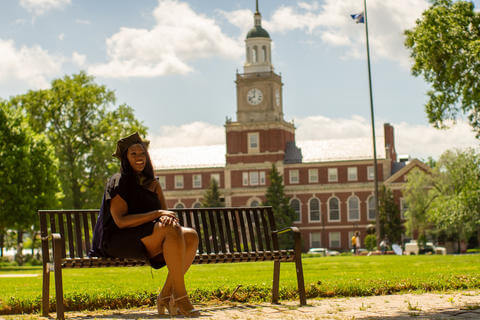 Moving to the District of Columbia and starting pharmacy school at The Howard University was definitely something I was nervous about! This was the first time that I was going to be away from home for an extended period of time without having my family close by, so you can imagine why I was nervous. Even though it was a difficult decision, I am glad that I made it, because Howard University College of Pharmacy (HUCOP) has contributed immeasurably to my growth and development over the past 4 years.
During my P4 year, I was fortunate enough to have diverse APPE pharmacy practice experience, despite the COVID-19 pandemic. I was selected to complete a clinical track rotation at MedStar National Rehabilitation Hospital, where I was able to complete transitions of care rotation as well as round on the neurology, cardiology, orthology, and spinal cord injury services. I also completed a rotation at the Indian Health Service in Warm Springs, Oregon, which helped to solidify my interest in ambulatory care because I got to see pharmacists serving in the role of primary care provider for patients with chronic disease states. Furthermore, I completed a rotation at the FDA, where I worked in the Office of Prescription Drug Promotion and gained some regulatory experience. I also completed a rotation at BGB group which is a medical writing company, thus I gained some industry experience. I was also selected to complete an international rotation in Thailand, however, that was canceled due to the pandemic, but I have no doubt that the rotation would have been an amazing experience. Finally, I completed a community rotation at an independent pharmacy in D.C., which was a great experience because I had a lot of direct patient interaction, which I loved!
Due to my experiences in the college of pharmacy, my APPE rotations, the support from my friends, professors, staff, preceptors, and mentors I was able to achieve my goal of landing a PGY-1 pharmacy practice residency at Yale-New Haven Hospital! I am forever grateful to Howard University College of Pharmacy because of the "Pharmily" I gained, and I look forward to seeing the great things that my classmates and future graduates from HUCOP will be doing for the field of pharmacy!
Categories