Graduate Testimonial: Dr. Nneka Okafor, Pharm.D. - Class of 2021
May 25, 2021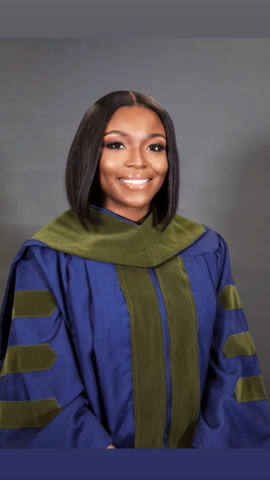 As my journey in pharmacy school comes to an end, I find myself reflecting on the pivotal four years I had the privilege to spend at Howard University. This period of self-reflection has uncovered how my matriculation throughout pharmacy school has been nothing short of an amazing transformation for my professional growth. As I prepare to transition into a new stage in my career, I can confidently state that because of HUCOP, I am fully equipped with the skills and knowledge to continue to rise and impact my community through excellence and truth in service.
Starting my pharmacy school journey back in 2017, I never could have imagined that I would be completing my final year during unprecedented times like today.  However, it is times like these where the lessons we've learned at Howard like adaptability truly get put to the test. Being fully aware of the lessons I have learned during my didactic courses, leadership roles, and clinical experiences, I was able to efficiently enter my last year of Advanced Pharmacy Practice Experiences (APPE) virtually, and maximize my time during each five-week rotation block.
Fortunately, the rotations I had were uniquely geared toward my post-graduate interests and aided in my successful goal of obtaining a post-graduate fellowship. Some of my rotation sites that I would like to highlight are the Center for Disease Control and Prevention (CDC), AbbVie, U.S. Food and Drug Administration (FDA), CareOne Concierge, and Howard University Hospital.
During my time at the CDC, I had the privilege to work directly with the Regulatory Affairs Clinical Guidance team on time-sensitive projects in response to the COVID-19 vaccines sponsored by Operation Warp Speed. Through this rotation, I was able to present weekly information on a formal platform and interact with an interprofessional network on a daily basis.
While at AbbVie, I worked on the Regulatory Affairs Advertising and Promotion team, where I was able to learn how to understand and interpret the regulations and guidance that govern prescription drug advertising and promotion.
During my time at the FDA, I worked within the Office of Program and Regulatory Operations and had the opportunity to present on the correlation of Vitamin D deficiency and COVID- 19 positive cases. In addition, I was able to attend daily meetings with other professionals in the agency to learn more about the different career opportunities that the FDA provides for pharmacists. 
During my rotation with CareOne Concierge Pharmacy, I worked with the COVID-19 infection and Antibody Testing team, where we mitigated the process of COVID-19 testing for patients before their procedure at the doctor's office.  
Lastly, during my rotation at Howard University Hospital in the Diabetes Treatment Center, I was able to interact with patients via telehealth and develop a personalized treatment plan for patients. In addition, I presented patient cases to the attending on duty and the pharmacy team.
Overall, my experiences while at Howard have been transformational and meaningful. Upon graduation, I feel confident knowing I will be supported by a tremendous network of professors, alumni, and mentors who will serve as my resources for advice, career development, and fellowship. Because of this, I myself will commit to being the same support and uplifting reinforcement for those behind me, to ensure that the HUCOP legacy lives on.
Dr. Nneka Okafor 
Categories