Howard University Pharmacy Professor Selected as DC Board of Pharmacy Chair
August 24, 2020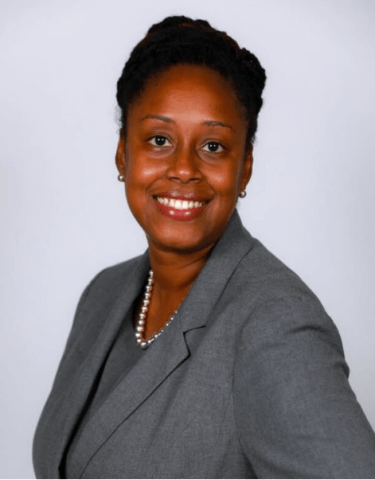 WASHINGTON (October 1, 2019) – Howard University College of Pharmacy professor Tamara McCants, PharmD, has been selected by Mayor Muriel Bowser as the chairwoman of the District of Columbia Board of Pharmacy, the third woman in a row from the College of Pharmacy to hold the position. 
Dr. McCants is currently an assistant professor at Howard University College of Pharmacy. She is also the residency program director for the Walgreens/Howard Community Pharmacy Residency Program and residency coordinator for Trusted Health Plan/Howard Managed Care Pharmacy Residency Program. The District of Columbia Board of Pharmacy is the the main regulating body in the city for the practice of pharmacy.
As a leader in pharmacy, she has dedicated her career to increasing the capacity of pharmacists to be a major contributors to favorable health outcomes, especially for the underserved population. Dr. McCants follows College of Pharmacy professors Daphne Bernard and Beverly C. Mims who were the immediate past chairs of the DC Board of Pharmacy.
"I am standing on the shoulders of these strong women who have been leading the profession of pharmacy for many years, and I'm honored to be in this position," McCants says. "I also feel very passionately about the profession of pharmacy. In this position, I will be able to raise awareness of the what the profession can do in health disparities and increasing health outcomes for all of the D.C. population."
Dr. McCant's clinical practice site is MBI@ Green Door, a community mental health center in Northwest Washington. Originally from Brooklyn, McCants received her Doctor of Pharmacy degree from Florida A&M University in 2001. Upon graduation, she relocated to Washington, D.C. to complete a community pharmacy residency program with Grubbs Care Pharmacy and Howard University.
McCants is very active in professional and civic organizations. She serves on the national board of directors for National Pharmaceutical Association as the conference planning chair. She is an active member of the FAMU Alumni Association and a member of Alpha Kappa Alpha Sorority, Inc., Rho Mu Omega Chapter.
"We are very proud of Dr. McCants' selection for this role. Dr. McCants is very passionate about service to District residents," says Toyin Tofade, PharmD, dean of the Howard University College of Pharmacy. "I believe this appointment will help position the college to provide even stronger patient care services to the people in the city."
The DC Board of Pharmacy regulates the practice of pharmacy and the practice of pharmaceutical detailing in the District of Columbia. The Board advises the mayor and enforces the law. The Board evaluates applicants' qualifications; recommends standards and procedures; issues licenses; and receives and reviews complaints. For more information, go here.
Categories
Research